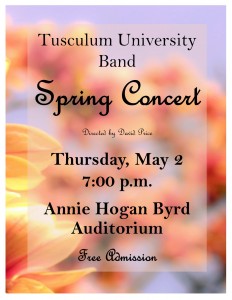 Tusculum University students, faculty, staff, as well as community members are invited to attend a special spring concert Thursday, May 2, on campus. This performance is free and meets Arts & Lecture requirements for students.
The Tusculum University Band will perform a concert in the Annie Hogan Byrd Fine Arts Center Auditorium Thursday, May 2 at 7 p.m. It will feature music from the concert band, the handbell choir, the jazz band.
The concert band will kick off by performing traditional band pieces such as "The Billboard March" "With Each Sunset" and a four-movement work called "Second Suite in F for Military Band." Next, the handbell choir will perform renditions of several popular pieces, including "Dancing Queen" "Hallelujah," "The Muppet Show Theme" and "Stairway to Heaven."
Then, the jazz band will entertain the audience with pieces such as "Rise," "You've Made Me So Very Happy," "MacArthur Park," and "Malaguena." The concert will conclude with special guests joining all of the evening's musicians. The ensemble will play "I Feel Good," "Proud Mary" and "Hey Jude."
For more information, Please contact the TU Band Director, David Price at daprice@tusculum.edu or TU Arts Outreach at 423-798-1620.