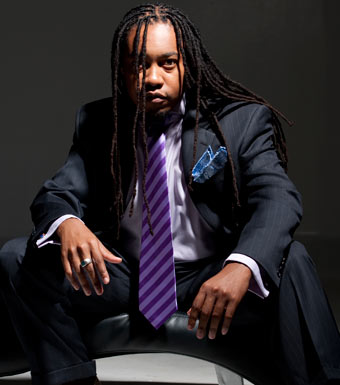 Jonathan Blanchard, a soul singer, songwriter, actor and preserver of the Negro spiritual, will share his rich voice during a virtual recorded concert followed by a question-and-answer session, all highlighting African American music, for the Tusculum family and the community.
The event, called "The History of Hip-Hop," will be Wednesday, March 24, with the concert beginning at 7 p.m. and the Q & A starting at 8 p.m. Both activities will occur via the Zoom virtual platform. The Tennessee Arts Commission has provided a grant to fully fund the event.
"The History of Hip-Hop" is an interactive history lesson that takes the audience on a journey through generations and genres of music. It encompasses African American music from the field song all of the way through jazz, blues, rock and roll and hip-hop.
"We're thrilled to have an accomplished artist in Jonathan who will provide a compelling history lesson in an entertaining and informative format," said Wayne Thomas, dean of the College of Civic and Liberal Arts. "Music is a powerful and moving way to share stories, and we look forward to this listening to this outstanding performer's songs. We also welcome his insight during the question-and-answer session."
Blanchard's talent matured while he was immersed in Memphis' divergent styles of music and art. His voice is comparable in depth and richness to Isaac Hayes, Paul Robeson and Barry White. Following the tradition of great soul singers, Blanchard creates music that lets his deep, soulfully rich voice to blend naturally with the times.
His first studio album, "Freedom's Soul … the Revolution," was a culmination of musical genres and steeped in soul music and lessons learned. It is a fusion of soul, funk, jazz, spirituals and rhythm and blues and contains truth, pureness and clarity in the message. His concerts at colleges, churches, festivals and performing arts venues throughout the United States showcase his original works.
Blanchard received a Bachelor of Science in commercial music and a Master of Science in music education from Tennessee State University.  He is a strong proponent of arts education and conducts workshops and residencies in schools and colleges, celebrating African American music and the artistry, history and message of the Negro spiritual. He is a Lincoln Center Teaching Artist and a teaching artist for the Alabama, Arkansas, Mississippi and Tennessee Arts Commissions. He embraces social issues and uses music to explore topics such as bullying and other life issues relevant to today's youth.
To participate in the event, please use the following link: https://tusculum.zoom.us/j/86020971521
To learn more about Blanchard, please visit www.jonathanblanchard.com. For more information about the university, please visit www.tusculum.edu.