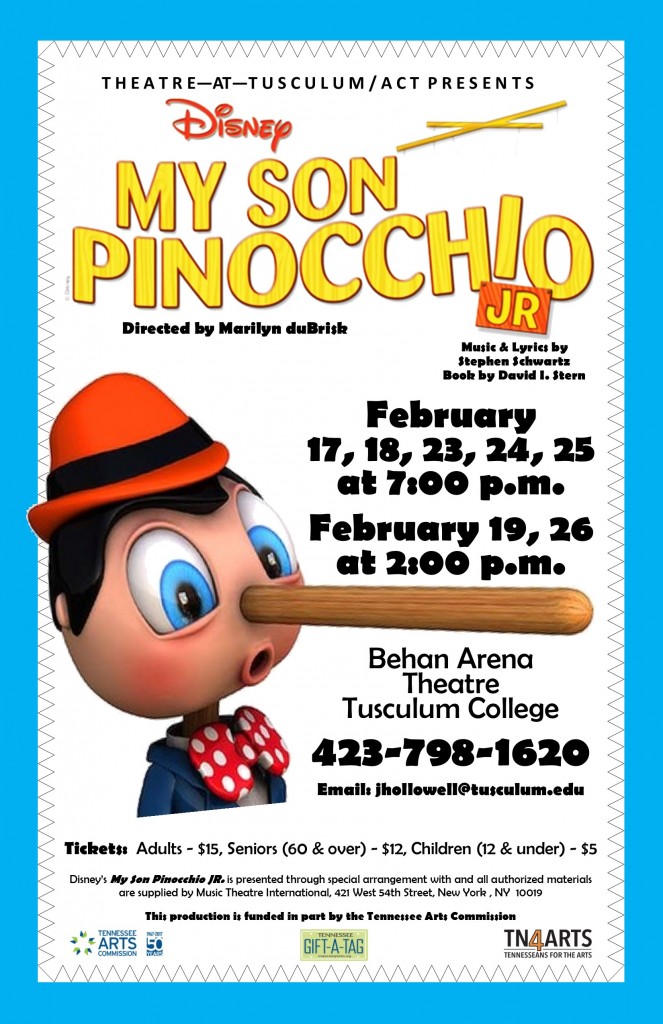 GREENEVILLE, Tenn. – More than 30 of the area's finest young performers will fill the stage to present Disney's "My Son Pinocchio, JR" during the last two weekends of February at Tusculum College.
            Theatre-at-Tusculum and Actors Coming Together will present the musical in the Behan Arena Theatre in the lower level (side entrance) of the Annie Hogan Byrd Fine Arts Building on the Tusculum College campus. Show times are 7 p.m. on Feb. 17-18, 23-25 and 2 p.m. on Feb. 19 and 26.
            "My Son Pinocchio, JR" is based in part on the classic Walt Disney animated feature film "Pinocchio." It is presented through special arrangement with Music Theatre International and is part of the Broadway Junior Collection. The musical includes the songs "When You Wish Upon a Star" and "I've Got No Strings" by Leigh Harline and Ned Washington from the animated film.
            However, unlike the animated film, the stage production is told from the perspective of Geppetto rather than Pinocchio, similar to the 2000 Disney live-action television movie "Geppetto," which featured Drew Carey. The musical includes music and lyrics by award-winning composer Stephen Schwartz (Broadway's "Wicked" and Disney's "Pocahontas," "The Prince of Egypt" and "Enchanted") and book by David Stern.
            Under the direction of Marilyn duBrisk and Assistant Director Brian Ricker, the all youth cast consists of an assortment of first-time and veteran actors. Griffin Gricunas, a fourth grader at Hal Henard Elementary School, will be making his Tusculum stage debut as the title character, Pinocchio. Gricunas will play alongside local favorite Parker Bunch who portrays Geppetto, the lonely toymaker who longs for a son. Another Bunch is helping lead the cast, as Parker's younger sister, Reagan Bunch takes on the role of the wish-granting Blue Fairy.
            The show is truly a family affair with six sets of brothers and sisters featured in the cast, and even a set of cousins. The junior fairies will be played by Tusculum View fifth grader, Emma Waddell, sisters Jade Ward and Jorja Ward, both fourth graders at Hal Henard Elementary, and Anna Woods, a fourth grader at Providence Academy in Johnson City.
            Other cast members include Greeneville High School senior Grayson Reed as the wicked Puppet Master Stromboli with his dancing marionettes played by EastView fifth grader Leah Beddingfield and Doak Elementary fourth grader Carter Copeland. Tusculum College students Carter DelSorbo of Greeneville and Emma McCuiston of Chattanooga will play Professore Buonragazzo and the Pleasure Island Ringleader respectively.
            The rest of the cast members play multiple roles throughout the show. They include Doak Elementary students Aliah Campbell and Aden Moore; EastView Elementary students Trey Bailey, Elliott Tucker and Zach Wallin; Greeneville Middle School students Jackson Beddingfield, Mylee Doty, Maya Gricunas, Maggie Hartman, Claire Hoeke, Carissa Hopson, Lexi Humbert, Amora Klepper, Caedmon Oakes, Allie Shelto, and Todd Wallin; Hal Henard Elementary students Grace Lampe and Jack Lampe; Tusculum View second grader Lily Broyles, as well as GHS freshman Angel Klepper, West Greene High School freshman Elijah Collins and Emmaline Neas, a sophomore from Parrotsville.
            The production staff includes Angie Clendenon, music director; Kasie Shelnutt, accompanist; Kim Berry, choreographer; Frank Mengel and Garry Renfro, light and set design; Barbara Holt, costume director; Suzanne Greene, stage manager; Trenda Berney, make-up director, and Jennifer Hollowell, box office manager.
            Tickets to the musical are $15 for adults, $12 for seniors 60 and over, and $5 for children 12 and under.  To reserve tickets, please call 423-798-1620 or email jhollowell@tusculum.edu.