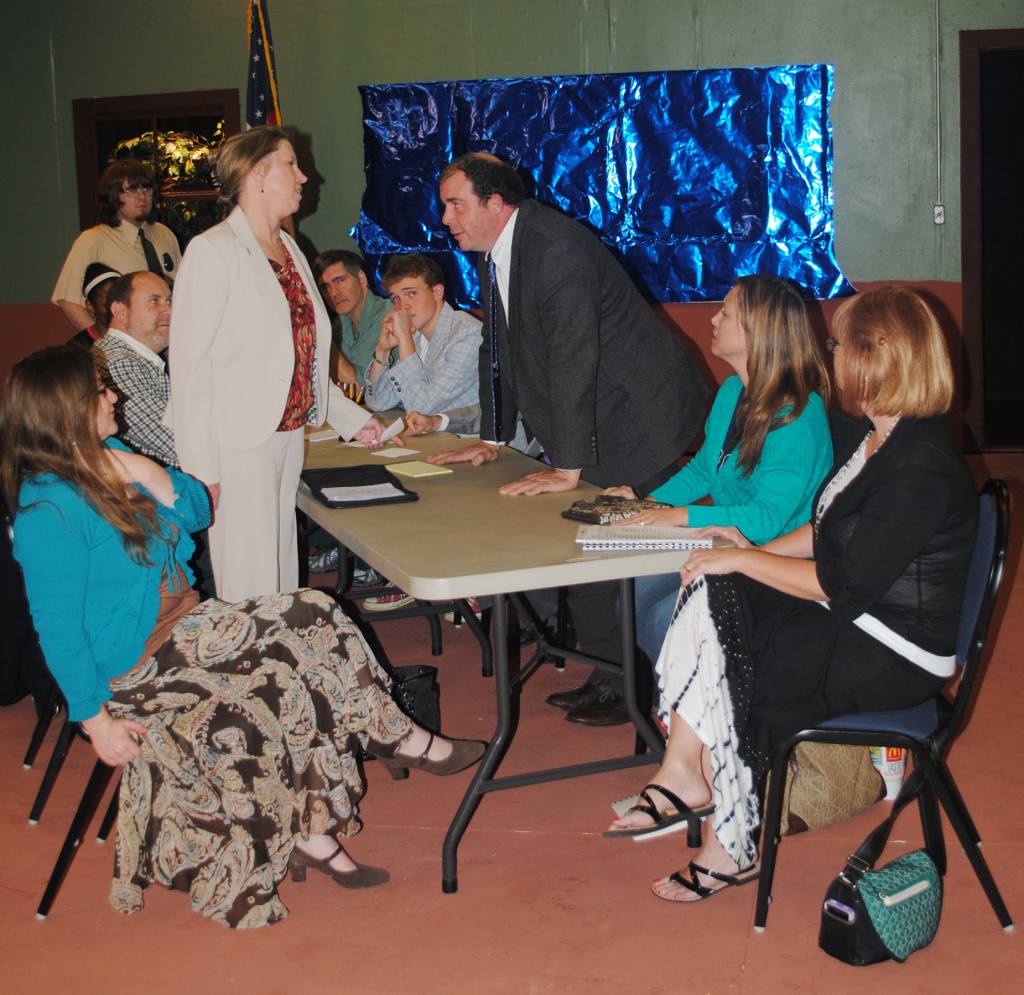 Theatre-at-Tusculum will present the powerful and engaging drama "Twelve Angry Men" the last weekend of April and the first weekend of May.
The life of a young man hangs in the balance as the "twelve angry men" of the jury must decide whether he is guilty of murder in the play, which will be performed at 7 p.m. on Fridays and Saturdays, April 25-26 and May 2-3 in the Behan Arena Theatre in the lower level of the Annie Hogan Byrd Fine Arts Building (side entrance). Sunday matinee performances will be at 2 p.m. on April 27 and May 4.
"Twelve Angry Men" was originally a teleplay by Reginald Rose, which was later adapted to the stage and also became a critically acclaimed film featuring Henry Fonda. Rose's original work reflects the time period in which it was written in that only men served on juries. Theatre-at-Tusculum will be performing an adaption of the play by Sherman L. Sergel, which provides for jurors of both genders.
Those who are familiar with the film will find that the play does differ in several points. For example, the film's focus is preventing an injustice whereas the play's emphasis is how people from diverse backgrounds come to a consensus, said Frank Mengel, who is directing the play. Mengel is the technical director for Tusculum College Arts Outreach and has directed such productions as "The Diary of Anne Frank" and "Dogg's Hamlet" for Theatre-at-Tusculum in recent years.
When the play opens, the jurors are almost unanimous in a "guilty" vote, except for a single dissenter. As the jury discuss their views, individual biases and prejudices are revealed and seeds of doubt about the guilt of the accused man begin to grow.
Many familiar local actors will be portraying the jurors, who are not known by name but by their juror number, including Paige Mengel, Brian Ricker, Will Maddux, Parker Bunch, Angela Bride, Sandy Nienabar, Margo Olmstead, Jeff Reese, Eva Griffin, Larry Bunton, Michael Fillers and Jeff Klepper. Zach Gass will portray the guard to the jury room.
The jury room is the scene of all the action of the play and the single set is being constructed by DeAundra Bowker, Bonnie Parks, Jacob Hoffman, Devon Suttles, Ashley Brooks, Andrew Herzig and Gary Mitchell. The stage manager is Suzanne Greene and Barbara Holt is the costume designer.
Admission for the play is $12 for adults, $10 for seniors 60 and over, and $5 for children 12 and under.
To make ticket reservations, please call Tusculum College Arts Outreach at 423-798-1620 or email jhollowell@tusculum.edu