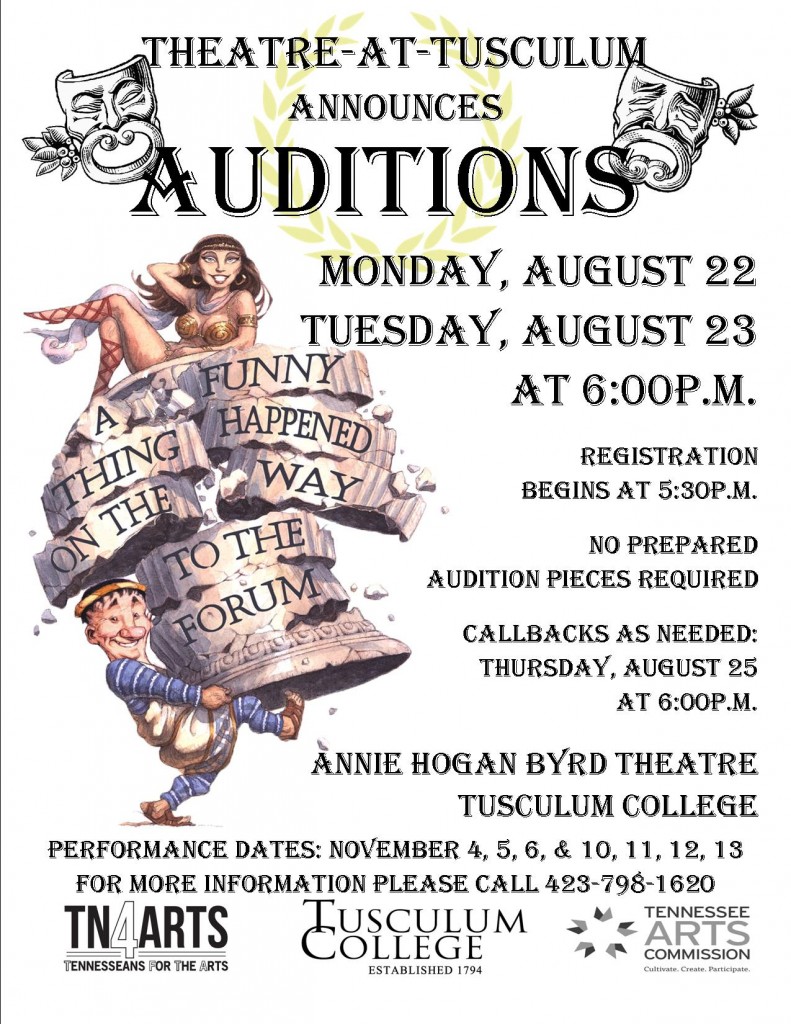 Theatre-at-Tusculum announces auditions for Aug. 22 and 23 for its annual fall musical directed by Marilyn duBrisk. This year duBrisk and her creative team will be producing the Tony Award-winning musical comedy "A Funny Thing Happened On The Way To The Forum."
Auditions for adults and high school students will be held Monday, Aug. 22, and Tuesday, Aug. 23, at 6 p.m. in the Annie Hogan Byrd Theatre at Tusculum College. Auditions will consist of singing, choreography and readings from the show's script. No prepared audition pieces are required, and registration for those wishing to audition will begin at 5:30 p.m., with callbacks being held on Thursday, Aug. 25, at 6 p.m. erformance dates are Nov. 4-6 and 10-13. Rehearsals will take place three evenings a week beginning Aug. 30 from approximately 6 to 9 p.m. on Mondays, Tuesdays and Thursdays with some Sunday rehearsals scheduled as needed.
The production team is looking to cast approximately 25 men and women of varying ages for this production. Roles available include seven leading and supporting roles for men, and two leading roles for women. An ensemble of 16 or more men and women are needed to complete the cast. Those wishing to audition should be prepared to list any scheduling conflicts between Aug. 30 and the performance dates at auditions.
"A Funny Thing Happened on the Way to the Forum," premiered on Broadway in 1962 and was awarded several Tony Awards that year including Best Musical and Best Author (Musical). The show was adapted in to a popular film in 1966 staring Broadway legends Zero Mostel and Jack Gilford in the leading roles of Pseudolus and Hysterium respectively, and was later revived on Broadway in 1996 starring Nathan Lane.
The music and lyrics for the show were written by renowned Broadway composer Stephen Sondheim (Follies, Sunday in the Park with George, Sweeney Todd, Into the Woods), and with Leonard Bernstein (West Side Story), with book by Burt Shevelove and Larry Gelbart.
Music Theatre International describes the musical as "Broadway's greatest farce" and as "light, fast-paced, witty, irreverent and one of the funniest musicals ever written. 'A Funny Thing Happened on the Way to the Forum' takes comedy back to its roots, combining situations from time-tested, 2,000-year-old comedies of Roman playwright, Plautus, with the infectious energy of classic vaudeville. 'A Funny Thing Happened on the Way to the Forum' is a nonstop laugh fest in which Pseudolus, a crafty slave, struggles to win the hand of a beautiful, but slow-witted, courtesan named Philia for his young master, Hero, in exchange for freedom. The plot twists and turns with cases of mistaken identity, slamming doors and a showgirl or two."
For the production, duBrisk has assembled a talented production staff, including Angie Clendenon as musical director, Kim Berry as choreographer, Suzanne Greene as stage manager, Kasie Shelnutt as accompanist and David Price as percussionist. The production staff also includes Tusculum Arts Outreach staff members Brian Ricker as assistant director, Barbara Holt as costume director, Frank Mengel as set designer and Jennifer Hollowell as box office manager.
For more information regarding auditions or to see a full character breakdown, please visit the Arts Outreach website at http://arts.tusculum.edu, TC Arts Outreach on Facebook or call 423-798-1620.