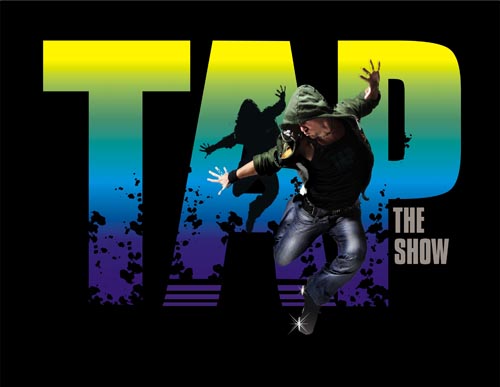 GREENEVILLE, Tenn. – "TAP – The Show" will bring a burst of non-stop dance energy to the stage at Tusculum College on Tuesday, March 18.
The award-winning song and dance spectacular will begin at 7 p.m. in the auditorium of the Annie Hogan Byrd Fine Arts Building. The show is part of Tusculum College Arts Outreach's Acts, Arts, Academia 2013-14 performance and lecture series.
Matt Davenport Productions' "TAP – The Show" explores the international family tree of tap dancing, including Irish, African and Spanish traditions, as well as contemporary urban expressions.  Wrapped in dazzling costumes and backed by a soaring orchestral score, a cast of award-winning dancers and singers travels seamlessly over decades of styles from Broadway and big band to world music and pop/rock.
Each section brings to life iconic tap moments of the past and creates brand new moments that amaze audiences. Included in this extravaganza are recreations of some of favorite Fred Astaire and Gene Kelly numbers, Broadway showstoppers, smooth and sultry soft shoe, flamenco, tribal and Irish step and more.
The production is the culmination of years researching the traditions of step dancing by writer/director Scott Seidl.  As a percussionist and dancer himself, Seidl's interest in the expressive power in this marriage of dance and percussion was realized when executive producer Matt Davenport challenged him in 2009 to create a truly unique dance production.
Since then the show has become a perennial favorite at Hersheypark in Pennsylvania and garnered the "Heartbeat" award from the International Association Amusement Parks and Attractions.  The success of the show has led to the creation of a full theatrical version of the production for this national tour.
Tickets for the show are $12 for adults, $10 for senior citizens (60 and over) and $5 for children under 12. A group discount is available for dance studios. Tusculum College faculty, staff and students admitted free with valid TC ID.  Please contact Arts Outreach for more information at 423-798-1620 or email jhollowell@tusculum.edu.