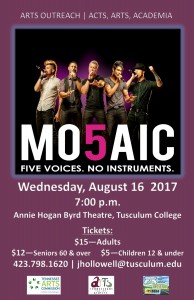 GREENEVILLE, Tennessee – MO5AIC, described by Tony Bennett as "the best vocal group I've ever heard," will bring their special brand of music to the stage at Tusculum College on Wednesday, Aug. 16.
The five-man vocal group will be performing at 7 p.m. in the auditorium of the Annie Hogan Byrd Fine Arts Building on the Tusculum campus. The performance will be the first in the 2017-18 Acts, Arts, Academia performance and lecture series, coordinated by Tusculum Arts Outreach.
MO5AIC performs a unique blend of R&B, pop, rock, jazz, big band and Top 40 songs with a twist. Offering a different face of a cappella music, the five-man group performs with no instruments, using just their voices and microphones to create a full sound that has audiences frequently puzzled about where the band is. MO5AIC features Josh Huslig, Heath Burgett, Jake Moulton, Corwyn Hodge and Roopak Ahuja. The group was started by Huslig, who was turned on to vocal music when he heard Prince's "7" in high school and realized that the voice can be just as an interesting as the instruments accompanying it.
As the vocalists came together, their talent first received widespread attention when they submitted a video to CBS News' The Early Show, which was conducting a nationwide search for
The Great A cappella Group." The contest was judged by personal heroes of the members of MO5AIC, Boyz II Men, and they won.
In 2008, MO5AIC earned more attention and accolades through MTV's "Top Pop Group," talent show. While the contestants were to be pop groups, MO5AIC found themselves as the only a cappella group competing and had to fight to keep their all-vocal sound when asked to use instruments by the show's executives. MO5AIC won the contest, much to the surprise of those executives.
The group has opened for such acts as Stevie Wonder, Taboo of the Black Eyed Peas, Jay Leno and the late Prince and appeared on NBC's "America's Got Talent." MO5AIC's talent also landed them a residency headlining the Mirage Hotel in Las Vegas.
Admission is $15 for adults, $12 for seniors, and $5 for students.
The Acts, Arts, Academia performance and lecture series is supported by Tusculum Arts Outreach, Hearts for the Arts, the Tennessee Arts Commission, the late Dr. Sam Miller in memory of Agnes Ault Miller and generous donors and volunteers.
To reserve tickets or for more information, contact Arts Outreach at 423-798-1620 or email jhollowell@tusculum.edu.