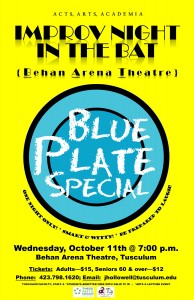 GREENEVILLE, Tenn. – The stage in the Behan Arena Theatre at Tusculum will come to life again with an evening of improvisation. Blue Plate Special's "Improv Night in the BAT!" is set for Wednesday, Oct. 11, as the popular group visits campus for an evening of fun and the unexpected.
The show features 90 minutes of standup, improv and sketch comedy from the Tri-Cities' premier comedy group. Blue Plate Special is a group of 10 comedians who perform regularly around the area, including a recent appearance at the Capitol Theatre in Downtown Greeneville.
"Audiences can expect endless possibilities," said Erin Schultz, a member of the troupe and Arts Outreach Costume Director at Tusculum College. Schultz added that the show is very interactive and depends heavily on the energy and involvement of the audience. "What we do is short-form improv that includes a series of improv games," she said, adding that it is similar to the popular television series "Whose Line Is It Anyway."
The show begins at 7 p.m. in the Behan Arena Theatre, located in the lower level of the Annie Hogan Byrd Fine Arts Building on the Tusculum campus. Admission is $15 for adults, and $12 for seniors 60 and over.
In addition to their shows in Greeneville and Tusculum, Blue Plate Special will be performing at the Gatlinburg Comedy Festival this spring.
The Acts, Arts, Academia performance and lecture series is supported by Tusculum Arts Outreach, Hearts for the Arts, the Tennessee Arts Commission, the late Dr. Sam Miller in memory of Agnes Ault Miller and generous donors and volunteers.
For more information, contact Arts Outreach at 423-798-1620 or email jhollowell@tusculum.edu.