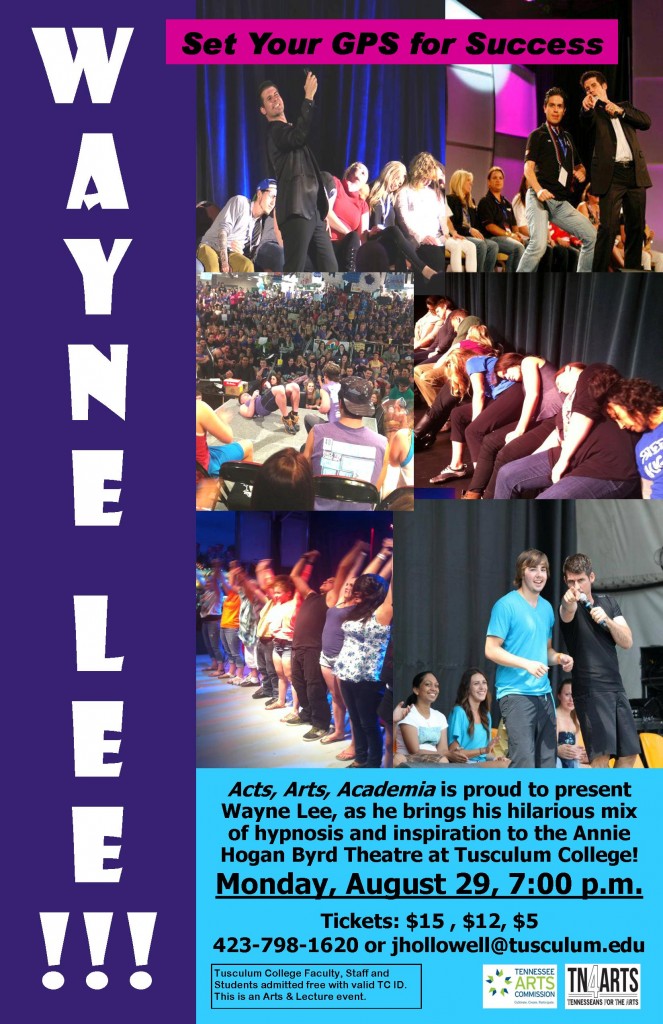 An inspirational presentation by hypnotist Wayne Lee will take place on Monday, Aug. 29 to kick off Acts, Arts, Academia series at Tusculum College
Wayne Lee will bring his hilarious mix of hypnosis and inspiration to Tusculum College on Monday, Aug. 29, in the kick-off event of  the 2016-17 Acts, Arts, Academia Performance and Lecture Series.
Lee's performance will be at 7 p.m. in the auditorium of the Annie Hogan Byrd Fine Arts Building on the Greeneville campus.
In his presentation, "Set your GPS for Success," Lee challenges audiences to set their "Great Programmable Subconscious" to reach their goals. While keeping his audiences in stitches, Lee blends in encouraging and thought-provoking points in his presentation.
Over the years, Lee has used hypnosis to entertain, excite and mesmerize audiences across North America in thousands of shows and presentations and helped people to explore the unlimited potential of the human mind. Beginning with a childhood fascination with magic and visualization, Lee's driving passion is to help people discover their potential, and acting on that passion has resulted in his opportunities to make presentations worldwide. As a former five-time Canadian amateur wrestling champion and a classroom instructor, Lee has practiced what he teaches.
Admission to the events is $15 for adults, $12 for seniors 60 and over, and $5 for children 12 years of age and under.
Tusculum College faculty, staff and students receive (1) free ticket with valid TC ID, and will be available at the Box Office one hour prior to the show.  This is an official Arts & Lecture credit event.
For more information or to reserve tickets for the Wayne Lee  performance, call Tusculum College Arts Outreach at 423-798-1620 (campus extension 5620), or email jhollowell@tusculum.edu.