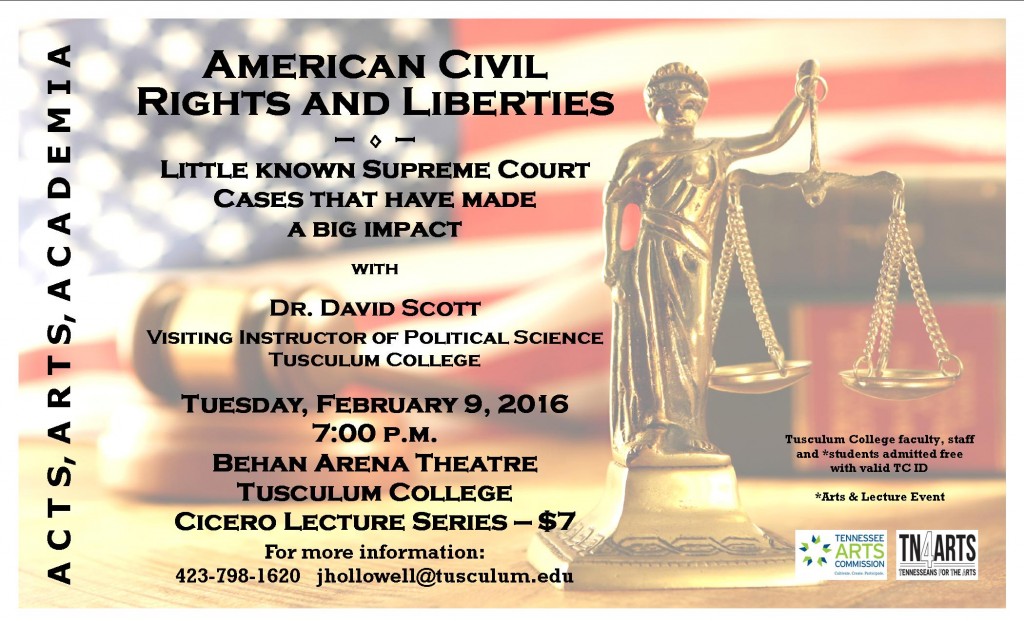 Uncovering cases from the annals of the highest court in America that may not have the popular recognition of Brown v. Board of Education or Roe v. Wade but have had as significant impact on the nation will be the focus of a presentation Tuesday, Feb. 9, at Tusculum College.
"American Civil Rights and Liberties: Little Known Supreme Court Cases That Have Made a Big Impact" will be presented by Dr. David Scott at 7 p.m. at the Behan Arena Theatre in the lower level (side entrance) of the Annie Hogan Byrd Fine Arts Building on campus. The presentation is part of the Cicero Lecture Series and Tusculum Arts Outreach's Acts, Arts, Academia 2015-16 performance and lecture series.
Dr. Scott, visiting instructor of political science at Tusculum, will be primarily discussing four cases that have been significant for the country during his lecture, but will also share information about other important Supreme Court decisions.
A licensed attorney, Dr. Scott earned his doctorate in political science with a focus in American politics from the University of Tennessee. He holds Juris Doctorate and Master of Dispute Resolution degrees from Pepperdine University.
His teaching and research interests include American constitutional law, civil rights and liberties, the influence of interest groups on the Supreme Court via the submission of amicus curiae briefs and political philosophy.
In his second year as an instructor at Tusculum, Dr. Scott has also taught at Carson-Newman University and Walters State Community College, as well as serving as a graduate teaching associate at the University of Tennessee at Knoxville. He and his family live in Greeneville and he serves as an elder at First Christian Church.
Admission to the lecture is $7 per person. For more information about the lecture, please contact Tusculum Arts Outreach at 423-798-1620 or jhollowell@tusculum.edu.