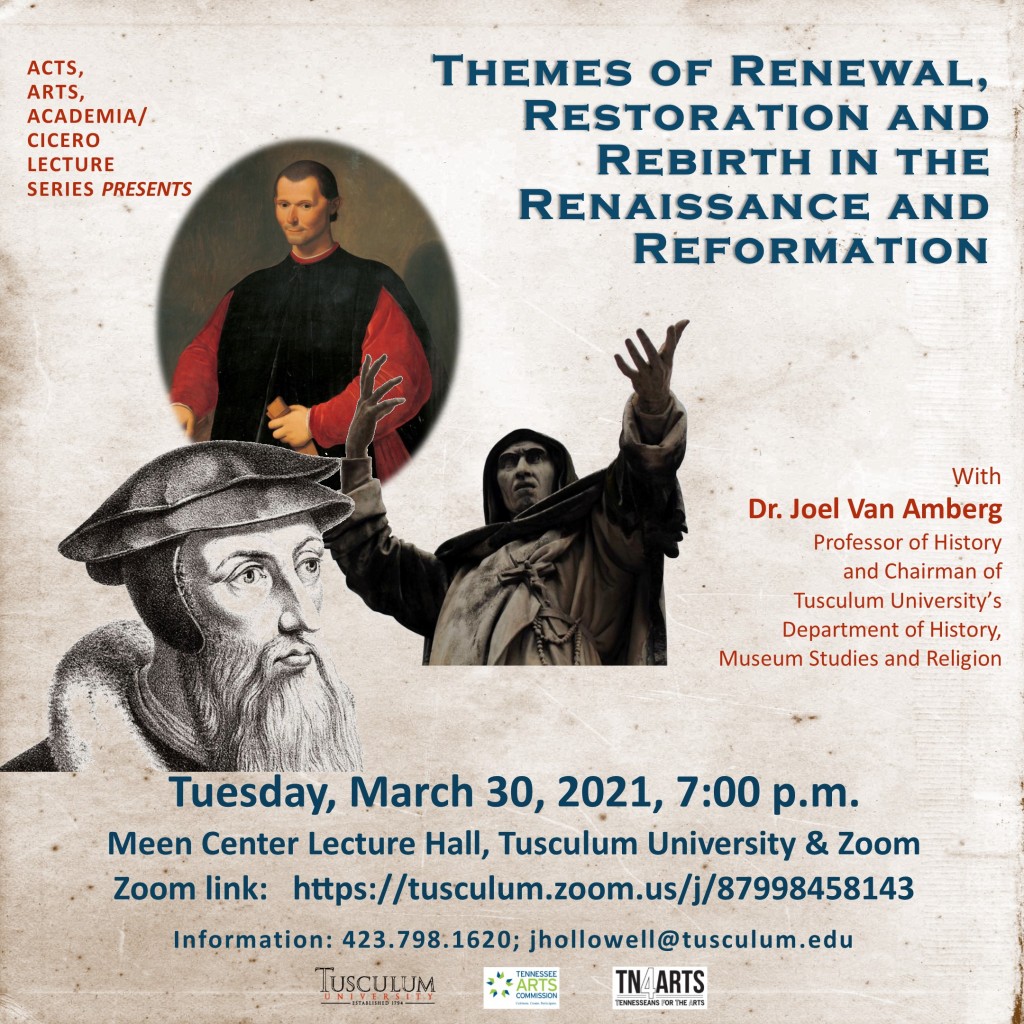 We encourage you to mark your calendars for Tuesday, March 30, when one of our own will serve as the lecturer for the annual Cicero Lecture Series.
Dr. Joel Van Amberg, professor of history, will present "Themes of Renewal, Restoration and Rebirth in the Renaissance and Reformation" beginning at 7 p.m. He will speak from the Meen Center lecture hall to a limited audience of 50 people, but Tusculum University family members are welcome to watch it via Zoom with this link: https://tusculum.zoom.us/j/87998458143.  As part of the free lecture, Dr. Van Amberg welcomes questions from and dialogue with the audience.  
Dr. Van Amberg describes the 15th and 16th centuries as transitional for Europe. He will examine how Europeans held deep feelings of yearning and affinity and sought to restore the best of their ancient past. He said they hoped that would lead to the birth of a new Europe to meet that period's challenges.
"The political, economic and intellectual structures of the Middle Ages seemed increasingly ill-suited to accommodate the new realities with which Europeans were grappling," Dr. Van Amberg said. "However, the contours of a new arrangement, one that we will come to call Modernity, were not yet in view. To think their way forward, Europeans who were associated with the age's two great movements, the Renaissance and the Reformation, reached backward."
Dr. Van Amberg has served as a Tusculum professor since 2005 and as an administrator since 2006. He is a historian of 16th century Europe and the author of "A Real Presence: Religious and Social Dynamics of the Eucharistic Conflicts in Early Modern Augsburg 1520-1530." He delivered the lectures for Tusculum's Theologian-In-Residence series in 2018 to commemorate the 500th anniversary of the Reformation.
He holds a Bachelor of Arts in religious studies from Bowdoin College, a Master of Arts in church history from Gordon-Conwell Theological Seminary and a doctorate in European history from 800-1648 from the University of Arizona.
The lecture's namesake, Cicero, was a Roman statesman, lawyer, teacher and orator. He established an academy at the former Roman town of Tusculum, where he outlined principles of civic virtue in a republic to vote, volunteer, serve the community above oneself and work to achieve excellence. His principles serve as the inspiration for our focus on civic engagement.
Anyone who wants to reserve one of the 50 seats in the lecture hall or has questions can contact Jennifer Hollowell, coordinator of Tusculum Arts Outreach, at jhollowell@tusculum.edu.