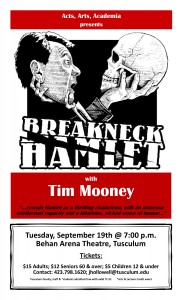 GREENEVILLE, Tennessee – Tim Mooney will bring his one-hour, high energy version of Hamlet to the stage Tuesday, Sept. 19, at Tusculum College.
Mooney's "Breakneck Hamlet" will be presented at 7 p.m. in the Behan Arena Theatre on the lower level (side entrance) of the Annie Hogan Byrd Fine Arts Building on the Tusculum campus. The performance is part of the 2017-18 Acts, Arts, Academia performance and lecture series, coordinated by Tusculum Arts Outreach.
Mooney has "recklessly sliced" his "Breakneck Hamlet" from Shakespeare's original, cutting a four-hour play to a single hour with a single actor. This "breakneck" performance reveals Hamlet as a thrilling chameleon, with an immense intellectual capacity and a hilarious, wicked sense of humor. Rather than the melancholy Dane of more traditional interpretations of the play, Mooney's Hamlet is a man of action with barely a second-long pause throughout.
The Chicago-based actor is a veteran of over 50 fringe festivals and 15 years of touring colleges and high schools across the US with popular one-man shows. "Breakneck Hamlet" is Mooney's eighth (and he describes as best) one-man play, following, "Moliere than Thou," "Lot o' Shakespeare" (one monologue from each of Shakespeare's plays), and "The Greatest Speech of All Time," which included historical speeches ranging from Socrates to Martin Luther King, Jr.
Mooney has adapted 17 of the plays of Molière and is the author of the acting textbook, "Acting at the Speed of Life; Conquering Theatrical Style." Mooney's skill at turning rhetorical complexity into theatrical power gets its greatest test with "Hamlet." (He has, in fact, published his complete adaptation, along with a facing-page concordance including research and acting notes, as "The Breakneck Hamlet Companion," available via Amazon.)
"I was inspired to bring substance and passion to the soliloquies and great speeches (while bridging the gaps of the ongoing action with a playful, snarky commentary that I can't quite resist)," Mooney says of "Breakneck Hamlet."
"The intent is to add by subtraction," he continues. "By removing a dozen actors and three hours of melancholy, we surface the power that the original Elizabethan audience must have felt. It gives the modern audience access to what is generally considered the greatest play of all time. We are suddenly more aware of a delicate and dangerous political battle, between two equally powerful, and equally aware players fighting over who gets to be king."
Admission to the play is $15 for adults, $12 for seniors 60 and over, and $5 for children 12 and under. Special discounts for adult or senior tickets are available for groups of 15 or more.
The Acts, Arts, Academia performance and lecture series is supported by Tusculum Arts Outreach, Hearts for the Arts, the Tennessee Arts Commission, the late Dr. Sam Miller in memory of Agnes Ault Miller and generous donors and volunteers.
To reserve tickets or for more information, contact Arts Outreach at 423-798-1620 or email jhollowell@tusculum.edu.