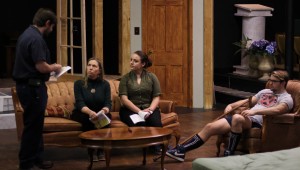 From left to right, Caleb Addington as Gooper, Paige Mengel as Big Mama, Allison Craft as Mae and Josh Cassels as Brick, at rehearsal.
GREENEVILLE, TENNESSEE  Theatre-at-Tusculum presents Tennessee Williams' "Cat on a Hot Tin Roof" for six performances beginning Feb. 23. The performances take place in the Behan Arena Theatre on the Tusculum campus in Greeneville. Evening performances take place Feb. 23, 24 and March 2, 3 at 7 p.m., with two Sunday matinee performances on Feb. 25 and March 4 at 2 p.m.
The play is presented through special arrangement with Dramatist Play Service Inc. and is directed by Tusculum Arts Outreach Assistant Director Brian Ricker. The production features local theatre veterans and fresh faces to the Tusculum stage.
Greeneville native, and no stranger to the Tusculum stage, Kendra Tarlton portrays the sensual and cunning "Maggie the Cat" opposite the tormented and smoldering Brick Pollitt, played by Johnson City theatre veteran, Josh Cassels. Local theatre favorites Larry Bunton and Paige Mengel portray Big Daddy and Big Mama Pollitt, respectively.
Brick's older brother, the often overlooked Gooper is portrayed by Caleb Addington, who is making his Tusculum theatre debut. Gooper's wife, the maniacal Mae is played by Allison Craft who returns to the Tusculum stage after working for the past three years in South Carolina with The Academy of Arts. Audiences may remember Craft as Old Sally from last fall's production of "Oliver!"
Rounding out the supporting cast are Mike Lilly as Doctor Baugh and Josh Beddingfield as Reverend Tooker. Mae and Gooper's rabble of rambunctious children are played by Doak Elementary students Abby Helton and Aden Moore, Tusculum View Elementary student Reagan Smith and Hal Henard Elementary student Griffin Gricunas.
The ensemble consists of Audrey Shoemaker, Katherine Dooly and Michael Fillers as the Pollitt household servants. Tusculum students River Donnelly and Andrez Zavala, who were also in last fall's production of "Oliver!" are portraying field workers on the Pollitt plantation.
The show, considered by many to be one of the author's greatest works, revolves around a well-to-do family in 1950s Mississippi. On a vast plantation owned by Big Daddy Pollitt, the family gathers to celebrate the patriarch's sixty fifth birthday after he receives, what he believes to be a clean bill of health from the world famous Ochsner Clinic located just outside New Orleans. As the evening progresses audiences will see a dramatic story of family dysfunction, jealousy, greed, social mores and mendacity unfold.
A classic of American theatre, "Cat on a Hot Tin Roof" received the Pulitzer Prize for Drama and several Tony Award nominations when it premiered on Broadway in 1955. Several revivals have been staged since and a famous film adaptation starring Elizabeth Taylor and Paul Newman received multiple Oscar nominations.
"It is brilliant writing," said Ricker. "The actors do an amazing job bringing it to life. There are some very intense, emotional moments in the show, and they are nailing it. I really hope audiences come to see it. It has wonderful dialogue and meaningful messages regarding aging, poverty and social conventions. It's a great piece of theatre."
Audiences are cautioned that the show does contain strong language and mature themes, which some may find offensive.
"It is not for kids, but it is also not for folks who are affronted by strong language," said Ricker. "It is raw and emotional. Words get used and topics get discussed. These are very real characters who use strong language to convey very powerful emotions."
Costumes are being curated by Tusculum Arts Outreach Costume Artist Erin Schultz, whose work is supported in part by a grant from the Tennessee Arts Commission. The stage manager is long-time Tusculum theatre volunteer, Suzanne Greene. Set design is by Arts Outreach Technical Director Frank Mengel and set decoration is by Greeneville Theatre Guild coordinator, Paige Mengel.
Tickets may be reserved by contacting Box Office Manager Jennifer Hollowell at 423-798-1620 or by e-mail at jhollowell@tusculum.edu. When reserving tickets please include name, a contact telephone number, the date to reserve the tickets, the number of tickets and the type of ticket. Prices are $15 for adults and $12 for seniors.
Tickets may be picked up and paid for at the box office the day of the performance, or a time may be scheduled to come by the Tusculum Arts Outreach office. Cash or check only, as credit/debit cards are not accepted. The Box Office, located in the lobby of the Behan Arena Theatre (lower level, side entrance of the Annie Hogan Byrd Fine Arts building), will open an hour and half before each show time with the house opening an hour before the start of the performance. Audiences are reminded that seating is not assigned and will be first come, first served.
Theatre-at-Tusculum is under the auspices of Tusculum Arts Outreach which is led by Director Marilyn duBrisk, Assistant Director Ricker, Coordinator Hollowell, Technical Director Mengel, and Costume Director Schultz. It is supported in part by a grant from the Tennessee Arts Commission, Hearts for the Arts, as well as many generous donors and volunteers. For information about Theatre-at-Tusculum or other Arts Outreach programs, call 423-798-1620, visit http://art.tusculum.edu, or via Facebook at TC Arts Outreach.