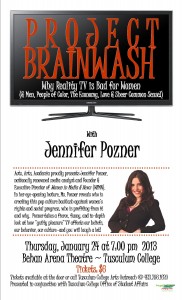 Renowned media analyst Jennifer Pozner will cast a critical eye on reality television programs and their effects on Thursday, Jan. 24, at Tusculum College.
Pozner will take a fierce, funny and in-depth look at how "guilty pleasure" television affects beliefs, behavior and culture in "Project Brainwash: Why Reality TV Is Bad for Women (and Men, People of Color, the Economy, Love and Sheer Common Sense.)"
Her presentation will begin at 7 p.m. in the Behan Arena Theatre (lower level) of the Annie Hogan Byrd Fine Arts Building on the Tusculum College campus. The program is part of Tusculum College Arts Outreach's Acts, Arts, Academia 2012-13 performance and lecture series and is also being presented in conjunction with the college's Office of Student Affairs.
Pozner is a media critic, journalist, author and founder and director of the Women in Media and News (WIMN). A media justice group based in New York, WIMN amplifies women's presence and power in the public debate through media analysis, education and advocacy. She is also managing editor of WIMN's Voices, a popular group blog on women and the media, which can be found at WIMNonline.org.
A widely published freelance journalist, her work has appeared in outlets ranging from newspapers such as The New York Times, Newsday, Chicago Tribune and Boston Phoenix, to magazines such as "Ms. Magazine," "The American Prospect" and "In These Times" to new media such as Salon.com and the Huffington Post.  She formerly directed the women's desk at the national media watch group FAIR, where she was a staff writer for Extra! magazine and the organizer of the national Feminist Coalition on Public Broadcasting.
Pozner has appeared as a commentator on CNN, Fox News, MSNBC, ABC News Now, National Public Radio, Comedy Central's "The Daily Show with Jon Stewart" and several documentary films.
Her first book, "Reality Bites Back: The Troubling Truth About Guilty Pleasure TV," was published in 2010, and has been praised as an insightful and fun read.
A noted public speaker, Pozner has conducted multi-media presentations and participated in panels and debates at colleges and conferences across the country. She has spoken on women, media, politics and pop culture at more than 70 colleges across the country. In 2009, she was named as one of the New Leaders Council 40 Under Forty young progressive leaders to watch and "Forbes" has named her one of the "20 Inspiring Women to Follow on Twitter."
Admission to the presentation is $6. Tickets may be purchased at the door or by calling Arts Outreach at 423-798-1620.
-TC-